Cross River Born Philip Obaji Nominated for 2015 African Achievers Award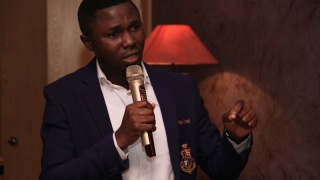 Philip Obaji
Nigerian education and children's rights activist, Philip Obaji has been nominated for an African Achievers Award 2015.
In short-listing Obaji, the organizers recognized the activists continued effort towards the development of Africa.
Obaji, who hails from Obubra Local Government Area of Cross River State, was recently named a Global Partnership for Education champion and founder of 1 GAME Campaign, is known for his activism for rights to education for Children, especially in north-eastern Nigeria, where the Islamist group, Boko Haram forbids western education and has targeted schools, education campaigners, teachers and students among others.
The African Achievers Awards is recognized by FORBES as one of the most prestigious honours in the African continent.
The awards ceremony is aimed at recognizing excellent individuals and organizations that have distinguished themselves while contributing to the growth and development of Africa.
The focus is to motivate all African leaders, including prospective leaders and the youth by recognizing individuals and organizations that have contributed remarkably to the development of Africa.
The first African Achievers Awards, held on October 21, 2011, was presented to Arch Bishop Desmond Tutu in recognition for his fight for Human Right, Justice and Peace during his 80th Birthday celebration hosted by Kings College, London.
Similarly, the 2012, 2013, and 2014 events were held in London, Nairobi, and Accra respectively.
Former President of Malawi, Joyce Banda, and the late former President of Ghana, John Atta-Mills, are among previous winners of the Award in different categories.
This year's event is billed for July 25 at Sandston Convention Centre, Johannesburg, South Africa.